Gift Items
Here are one-of-a-kind gift ideas for special occasions, holidays, or just thinking-of-you! Check back frequently for new items!
Visit the Online Store for new and current inventory of coasters, sachets, bookmarks and Masks!
Coasters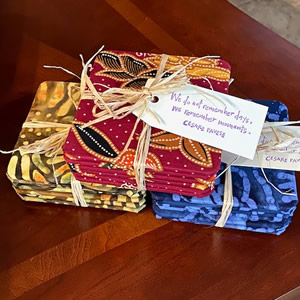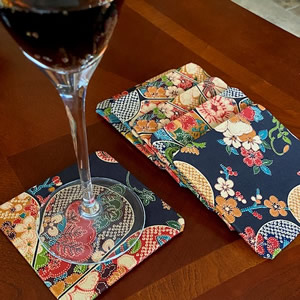 Need a "hostess gift" for your next party?  These coaster sets, wrapped to go, make ideal gifts for the home, and your host can use them right away.  Package tag reads: "We do not remember days, we remember moments." —Cesare Pavese
$20 per set
Set of 6 coasters, 4" x 4," pre-packaged
Particle board base, with cotton fabric covering
Skid-resistant base
Sachets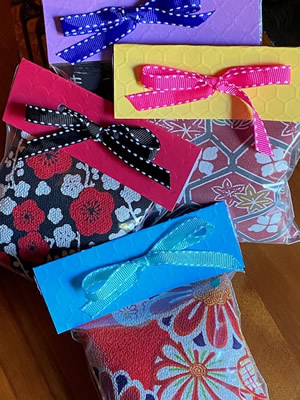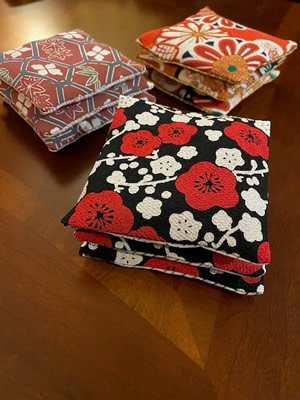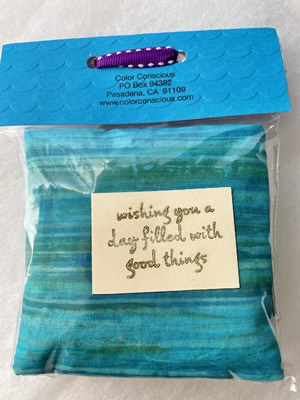 Treat yourself to a little aromatherapy with lavender sachets (three to a package). Believed to help reduce stress and anxiety and promote wellness, place sachets under your pillow, in a drawer, or even in your car—any place where you want to enjoy this calming and soothing scent.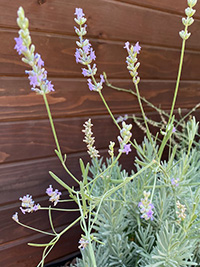 Sachets are filled with 100% natural lavender, and supplemented with lavender from my own garden. Package message reads: "Wishing you a day filled with good things."
$20 each
Set of 3 sachets, 4" x 4," pre-packaged
Fabric sachets filled with 100% natural lavender
Interior tag message reads: "Wishing you a day filled with good things."
Limited sets available.
Bookmarks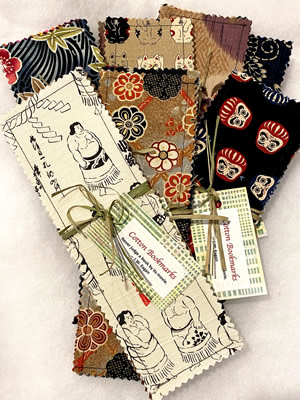 Put down that Kindle, and pick up a book! Make these fabric bookmarks a companion when you turn the pages of that next novel or textbook. Package tag reads: "Never judge a book by its movie."—J.W. Eagan
$15 per set
Set of 3 bookmarks, roughly 9" x 3," pre-packaged
Variety of cotton fabrics
Masks with Leashes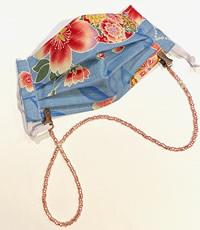 During the current health crisis, masks have become essential to our lifestyle.
Here you'll find a selection of cotton masks (with leashes included).  These masks have a pocket for filters, and if you always misplace your mask or want to keep your mask close to you to prevent contamination, a clip-on leash is included with your purchase.  The leashes work just like eye glass leashes—just slip off your mask as needed, and forget about losing it again!
Sold as a set (1 mask and 1 beaded leash), $30
Non-medical, accordion masks with filter pocket
Cotton fabrics, pre-washed twice
Exposed knotted elastic for ear adjustments
Adjustable nose wire attached
Mask can be retrofitted to behind-the-head style (request by email)
Beaded leash length: approx. 24"
Mask and leash sold as a set only
Customized leashes not available at this time
Machine- or hand-washable (mask only)