Color Conscious: Diversity in Design is a design studio that celebrates diversity through fabrics, textiles, and beads.
For over twenty years, Color Conscious has been creating one-of-a-kind gift items for you and your home.  Discover more about us, take a peek at past projects, or begin shopping now for Tote bags, Jewelry, Djembe Hats and Gift Items.
There is much more inventory than what you see on this Website! For the best selection and variety of products, please visit Color Conscious at a local-area artisan craft show or email us to shop by personal appointment.
Visit the Online Store for new and current inventory!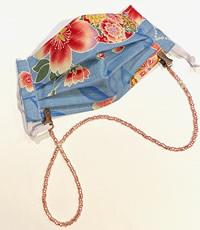 During the current health crisis, masks have become essential to our lifestyle.
Here you'll find a selection of cotton masks (with leashes included).  These masks have a pocket for filters, and if you always misplace your mask or want to keep your mask close to you to prevent contamination, a clip-on leash is included with your purchase.  The leashes work just like eye glass leashes—just slip off your mask as needed, and forget about losing it again!
Sold as a set (1 mask and 1 beaded leash), $30
Non-medical, accordion masks with filter pocket
Cotton fabrics, pre-washed twice
Exposed knotted elastic for ear adjustments
Adjustable nose wire attached
Mask can be retrofitted to behind-the-head style (request by email)
Beaded leash length: approx. 24"
Mask and leash sold as a set only
Customized leashes not available at this time
Machine- or hand-washable (mask only)
Virtual Kokoro2021
Shop November 1-15, 2021
An online craft show of the Japanese American National Museum
This online craft show, returning for 14 days, features the work of dozens of local and regional artisans. Mention "Kokoro2021" at each seller's point-of-sale, and 10% of your sale will be donated to support JANM cultural and educational programs.